Meet Our Staff and Captains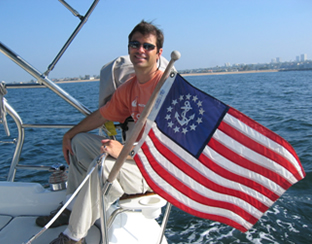 Chris Jester
ASA Affiliate School Managing Director & ASA Sailing Instructor
Chris is the President the Newport Beach Sailing School. He is also the Base Owner for SailTime Orange County and a Beneteau dealer for South Coast Yachts. Chris has an MBA from UC Irvine and a Bachelor's degree in Business Administration from the University of San Diego. He grew up in Orange County and learned to sail as a teenager. He is married, with two children, and enjoys sailing with his family.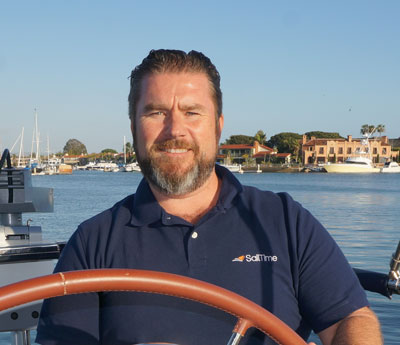 Tom Collins
Vice President
Tom is the Vice President for the Newport Beach Sailing School. He is also the Vice President for the Newport Beach Sailing Charters, and Base Manager for SailTime Orange County. Tom has a Bachelor's degree in Business Administration from Carroll College in Helena, MT. He grew up in Orange County and learned to sail as a young child. Tom has been actively sailing throughout his entire life. He is married and enjoys sailing with his family.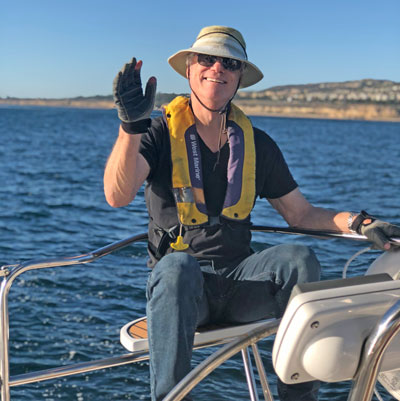 Capt. Roger Philips
US Coast Guard Captain and ASA Sailing Instructor
Captain Roger Philips earned the esteemed recognition of "Outstanding Instructor for 2008 & 2009" by the American Sailing Association.
Captain Roger Philips is a US Coast Guard Captain and ASA Sailing Instructor. He is also a former Vessel Assist rescue boat captain. For over thirty years, Captain Roger has been dedicated to the pursuit of sailing, while owning several sailboats. Roger has done extensive sailing in the Pacific Northwest, West Coast, and the East Coast, as well as in the Caribbean and Bermuda. He also teaches part time at Concordia University in Irvine, CA. He and his wife, Antoinette, enjoy sailing locally in Southern California and hosting flotillas in the San Juan Islands.
"Only praise for Roger Philips. His deep knowledge is based on even deeper experience. He is patient, determined and focused. Not much down time with him. He was there probing, teaching and demonstrating. Though he is always close by, he is also hands-off. You set the sails. You do the daily boat checks. You do the cooking and cleanup. You navigate. You pick up the mooring. You get the idea. He explained his plan for four days but was flexible as wind, weather and our own preferences suggested changes. It was like sailing with our own nautical Wikipedia. He has learned a lot during his years of boat ownership, boat rescue work in the San Juans, living aboard and teaching. Not to mention his engineering background with degrees from Princeton and UC Berkeley. I took some joy in listening to Roger and my son, also a mechanical engineer, talk nerd to one another. So yes, it was a grand experience for us both despite Mother Nature's high seas ripping off the only access point to Santa Barbara Island leaving us unable to explore. But we sailed in all sorts of wind conditions and found places to moor and anchor despite the Labor Day crush. Mostly we practiced skills that will serve us well during our own time on the water. Cherish Roger. His laid back teaching intensity is only matched by his mastery of the material and his deep love of the sea."
-Ken B.
"Thank you for the follow up.  I had a absolutely wonderful experience during ASA 104.  Captain Roger is a fantastic instructor.  Captain Roger is a gifted teacher, he was very patient with my learning, and his sailing skills and experience are impressive!  My overall experience with Newport Beach Sailing School is outstanding.  I'll  make sure to get my feedback to ASA." -Richard A.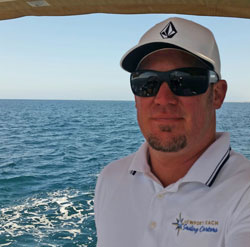 Capt. Rick
US Coast Guard Captain and ASA Sailing Instructor
Captain Rick is a Southern California Local, who has outstanding professional customer service. His goal is to make sure the time you spend sailing will be fun, entertaining, educational, relaxing and overall a great experience. Captain Rick is current with all U.S. Coast Guard regulations as a certified captain. Rick has experience sailing in various countries all over the world. Rick also has been an instructor with the American Sailing Association for several years teaching people of all ages how to sail. His passions include, being a father of two kids,
sailing, ocean wildlife, big wave surfing, free diving, great white cage diving and bringing new people out on the water to enjoy the magnificent Southern California waters.
Great boat, great captain and the weather and wind could not have been better. See you for the next one.
-John T.
We had a great time, everything was punctual and as expected. Rick was phenomenal.
-Raffaele C.
Rick was amazing!  Very professional and really knowledgeable.  My dad had a great time –as did we all-we were all so happy with the boat-my parents were especially pleased!
-Stephanie M.
As part of a week long trip in Newport, we did a sunset cruise with Captain Rick!! We had a wonderful time as he took as out on a 38 foot sailboat. He shared with us his knowledge of the area and even allowed me to sail the boat!
Our family visits the Newport Coast Area every summer. We always try to do something new and this year we purchased a 3 hour sunset cruise with Newport Beach Sailing Charters. We could not have been happier with our decision. Captain Rick was awesome. He is very knowledgeable and friendly in addition to being a great captain. The boat was absolutely beautiful, clean, and well maintained. I would highly recommend this experience to anyone who is ready to graduate from the electric boats in the harbor.
Had a great time. We did the 3 hr sunset cruise. Captain Rick was fantastic and the boat was beautiful, we choose the Hunter 40. A perfect evening!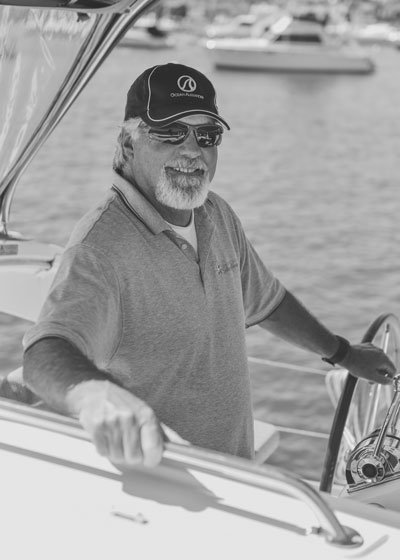 Capt. Alan Barr
US Coast Guard Captain and ASA Sailing Instructor
Capt. Alan has been an avid boater and sailor since a young boy and grew up in Newport Harbor.  He is a USCG Certified 100 Ton Master, with Advanced Radar, Towing, and Sailing endorsements, as well as a certified American Sailing Assoc. and NauticEd Sailing Instructor, American Power Boating Assoc. certified Powerboat Instructor, 10+ year decorated AUXOP member of the Coast Guard Auxiliary, and is also a retired Chiropractor, with specialties in sports injuries.   He has sailed nearly the entire California coastline and part of Europe, and was a stand-by crew member/ crew physician for the 1997 Transpacific Yacht Race (TRANSPAC) to Honolulu from Long Beach.   Capt. Alan is a long-time certified SCUBA diver and avid surfer, and loves to share his passion of the sea on his hosted Adventure Charters – with a flock of repeat business from year to year, and has devised many clever techniques in making learning to sail fun and easier to grasp, and is extremely proud to be a part of this group of elite professionals with our state of the art sailing vessels in one of So. California's most prestigious small boat harbors and it's beautiful coastline.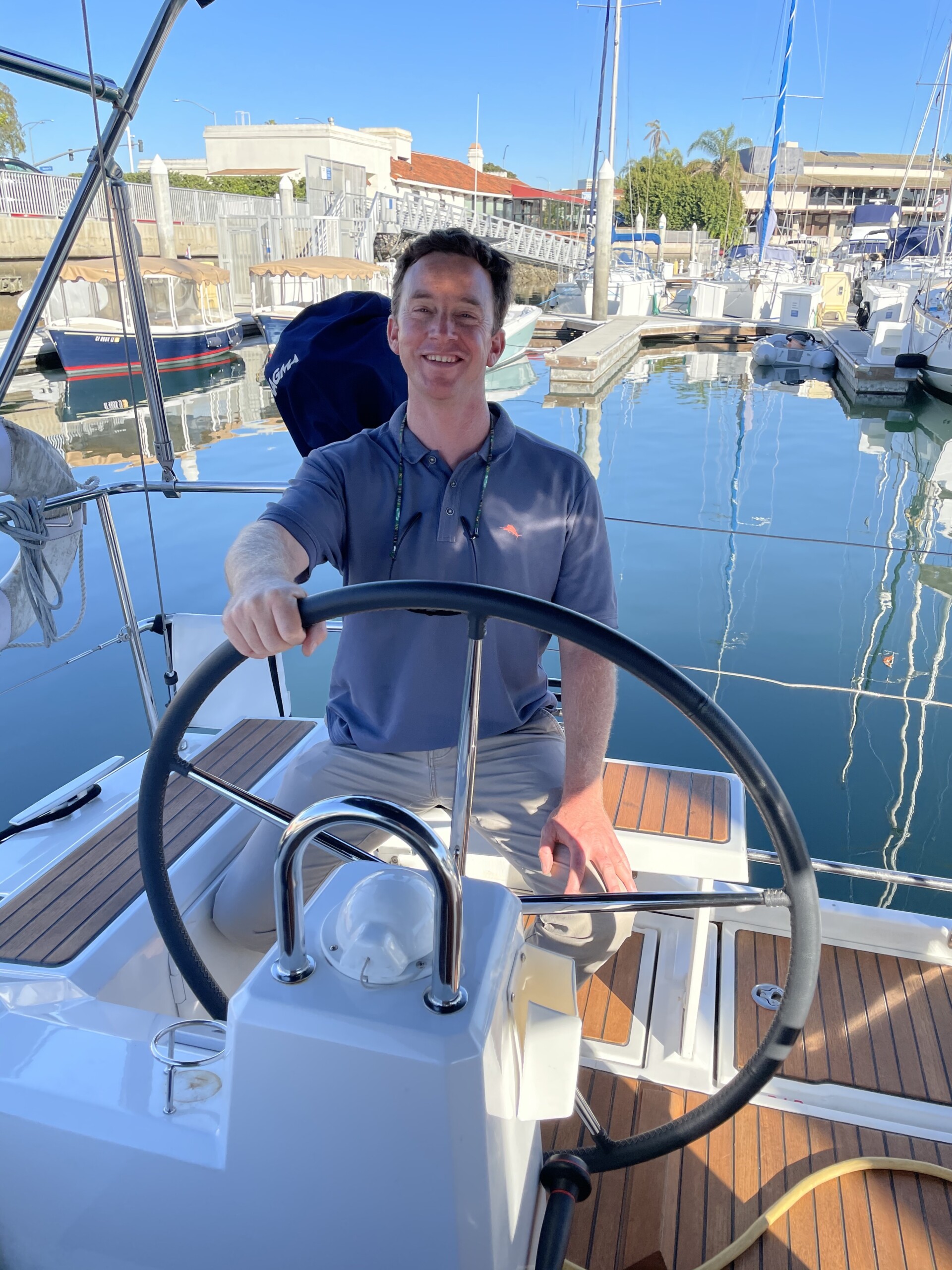 Capt. Toby Breland
US Coast Guard Captain and ASA Sailing Instructor
Capt. Toby Breland is an avid and enthusiastic sailor. Toby caught the sailing bug in San Diego back in 2005 and never looked back. Starting from humble beginnings as a yacht maintenance worker, Toby now holds a USCG Master 100 Ton Capt. License with Sailing and Towing endorsements. As a perk of Toby's first boating job he was sailing five days a week for several years. Eventually Toby was taken under the wing of an Australian Captain making deliveries and logging thousands of miles on various yachts up and down the Pacific West Coast. Toby has sailed the entirety of the American Pacific West Coast several times over. Toby has just scratched the surface and plans to sail for destinations around the globe. The sailing bug only continues to get bigger for this one! In addition, Toby has been regular crew for the past 5 years on a J105 racing boat out of the Bahia Corinthian Yacht Club here in Newport. Other activities Toby is passionate about include Surfing, Free diving/Spearfishing, nature, wildlife, travel, music, good food, good humor, and good company.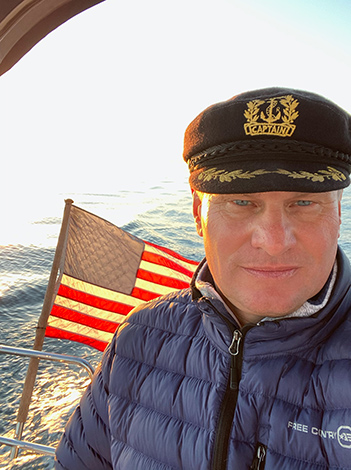 Capt. Greg Gorczyc
US Coast Guard Captain and ASA Sailing Instructor
Capt. Greg is US Coast Guard captain and ASA instructor.  He grew up in Poland where he has begun sailing with sea scouts after reading books about pirates of the Caribbean. He moved to Southern California in 2001 and fell in love with sailing in local waters. He enjoy taking people to Catalina island and other Chanel islands. He also likes to teach and pass his sailing skills and knowledge.
Capt. Greg is also USPTA tennis professional and a huge soccer fan.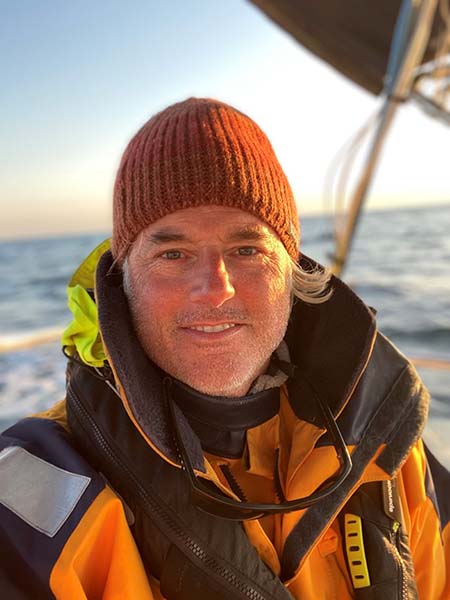 Capt. Chris Kehrli
US Coast Guard Captain and ASA Sailing Instructor
Captain Chris has been an avid sailor for over forty years. He holds a USCG 100-ton masters license, ASA Sailing instructor and RPBA power instructor credentials. Captain Chris enjoys working with groups, individuals and couples to understand their goals and make every day on the water a successful one! Starting with junior sailing Sabots and Catalina trips with his family, Captain Chris has logged thousands of miles up and down the entire eastern and western seaboards of the US. As an EMT-trained boat medic he competed in numerous coastal and offshore events including 6x Newport-Bermuda, Pacific Cup and others in the Caribbean, Mexico and Europe. Captain Chris has an MBA from Columbia University and a Bachelor's degree from Amherst College. When not on the water, Captain Chris enjoys spending time with his three children, struggling to learn the ukulele, coaching youth football and guiding friends and family in the backcountry of our national parks.